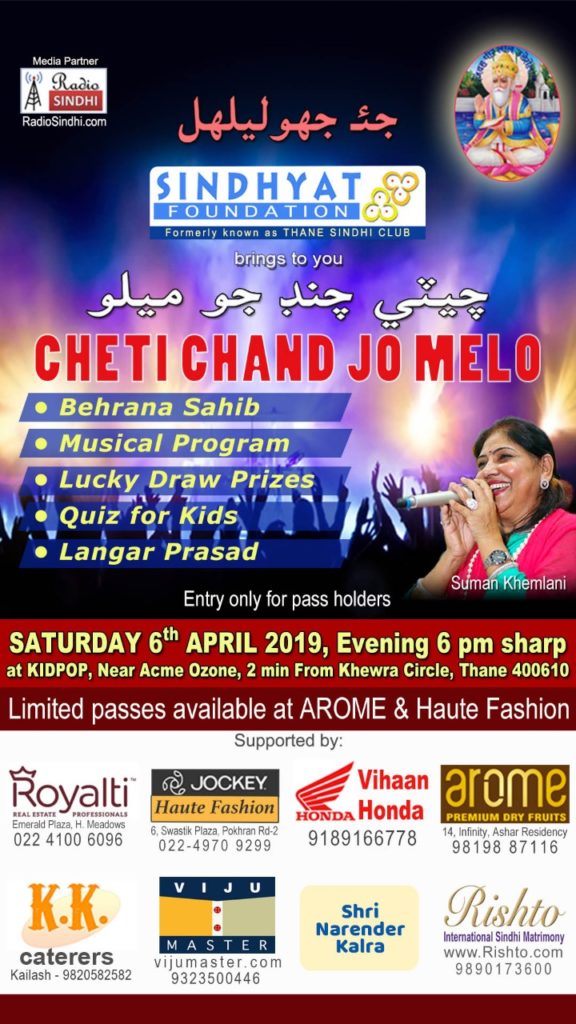 Jai Jhulelal,
Sindhyat Foundation, earlier known as Thane Sindhi Club is bringing to you Cheti Chand Jo Melo 2019.
Behrana Sahib & Cultural Sindhi program is organised at Kidpop Centre School on 6th April, 2019, Saturday at 6:00pm sharp. Kidpop school is very close to Khewra Circle and Acme Ozone. Passes are compulsory to attend the event. There is map provided behind the passes to reach the venue. We have also organised Autorikshaw shuttle service between Khewra Circle and Kidpop School.
This year we have invited Famous Suman Khemalni and orchestra party to perform and entertain the audience. There are Sindhi Fun games, prasad & Langar organised. We look forward to meet you at event. Wishing you all a very Happy Sindhi New Year.
Event is supported by Arome, Royalti, Haute Fashion, Vihaan Honda, Rishto.com, VijuMaster.com, Shri Narender Kalra & K.K. Caterers.
limited passes are available at Arome & Haute Fashion.
Media Partner is RadioSindhi.com